Genre: Young Adult / Fantasy
Page Count: 645 pages
Publication Date: September 2015
Queen of Shadows (Throne of Glass #4)
Goodreads summary: 
Everyone Celaena Sardothien loves has been taken from her. But she's at last returned to the empire—for vengeance, to rescue her once-glorious kingdom, and to confront the shadows of her past . . .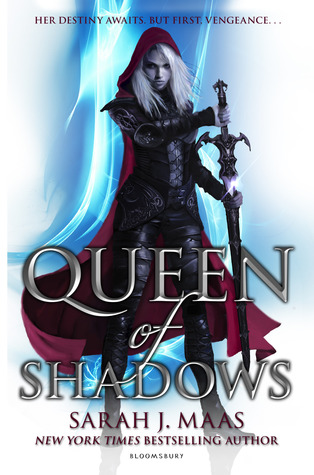 She will fight for her cousin, a warrior prepared to die just to see her again. She will fight for her friend, a young man trapped in an unspeakable prison. And she will fight for her people, enslaved to a brutal king and awaiting their lost queen's triumphant return.
Celaena's epic journey has captured the hearts and imaginations of millions across the globe. This fourth volume will hold readers rapt as Celaena's story builds to a passionate, agonizing crescendo that might just shatter her world.
My thoughts:
Wow wow wow! That ending… *sigh*
I really like how, even though this is the fourth book in the series, it had a satisfying "end". I love a "happily ever after", even when it's not really the end of a story…
Queen of Shadows has some epic fight scenes, a bit of romance, and a hint of mystery going on. I'm loving where things are headed for Aelin and her friends ♥
I have to say though, this is a loooong book. As with most of the books in the series, this is a slow read. For some unknown reason, it always takes me ages to go through any of Sarah J Maas' books! I'm not saying the story is boring or that it drags, because it's just not true. I think it's a slow read because of the author's writing style…
Overall, a great story with a group of kick-ass characters! Let's just hope Empire of Storms is as gripping and exciting as this one!