Ship of Theseus (also known as S.) by JJ Abrams & Doug Dorst 
Genre: Mystery / Fantasy
Page Count: 456 pages
Publication Date: October 2013
Goodreads Summary:
One book. Two readers. A world of mystery, menace, and desire.
A young woman picks up a book left behind by a stranger. Inside it are his margin notes, which reveal a reader entranced by the story and by its mysterious author. She responds with notes of her own, leaving the book for the stranger, and so begins an unlikely conversation that plunges them both into the unknown. 
The book: Ship of Theseus, the final novel by a prolific but enigmatic writer named V.M. Straka, in which a man with no past is shanghaied onto a strange ship with a monstrous crew and launched onto a disorienting and perilous journey.
The writer: Straka, the incendiary and secretive subject of one of the world's greatest mysteries, a revolutionary about whom the world knows nothing apart from the words he wrote and the rumors that swirl around him.
The readers: Jennifer and Eric, a college senior and a disgraced grad student, both facing crucial decisions about who they are, who they might become, and how much they're willing to trust another person with their passions, hurts, and fears.
S., conceived by filmmaker J. J. Abrams and written by award-winning novelist Doug Dorst, is the chronicle of two readers finding each other in the margins of a book and enmeshing themselves in a deadly struggle between forces they don't understand, and it is also Abrams and Dorst's love letter to the written word.
My Thoughts: 
Oh my! Where do I even begin? I have no words to describe how weirdly wonderful this book was!
I've been meaning to write a book review about Ship of Theseus by JJ Abrams & Doug Dorst for ages, but I couldn't find the words… I didn't know how to show you the amazingness that is this book!
Ship of Theseus is a mystery book set in a fantasy world (Not high fantasy… just a bit of unnatural things going on every now and then), that comes with all sorts of add-ons to it, like post-cards, old letters, etc…
Here, let me show you: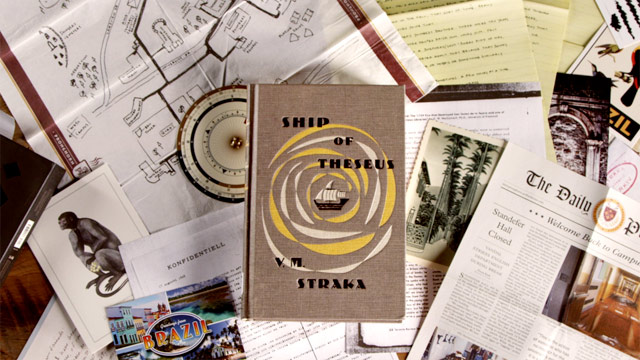 Source: https://www.theguardian.com/books/2013/nov/13/s-jj-abrams-doug-dorst-review
Do you see all these things in the background of the photo above? Yeah, they're not just background. They're all actually part of the book! All of those newspaper clippings, old documents, letters, everything comes folded in between the pages of the book, and as you read the story these "clues" will help you (and the two college students who keep leaving notes to each other on the sides of the pages) figure out who the author of the book really is.
Simply brilliant!
My favourite part was the side story of the two college students throughout the book. I mean, the main story is brilliant but it took me a while to get into it because I was so interested in getting to know the two students and in how they slowly get to know and trust each other.
I recommend reading one chapter at a time, first you read the main story then read the side notes and clues, then (and only then) you should go on to the next chapter.
Still not convinced if you should read this book? Even Will Wheaton gave the Ship of Theseus 5 stars on Goodreads 😀 I'm having a bit of a Sheldon Cooper moment here (I'm so addicted to The Big Bang Theory! Why did they put that on Netflix? Now I'll never be productive again!).
Ship of Theseus is not just a book, it's an experience. I only have THREE books on my Goodreads "Favourites" page (in no particular order):
The Night Circus
Harry Potter (series)
Ship of Theseus
Yes, it's THAT good!
Sure, not everyone will enjoy it (Some people don't even like chocolate! What's up with that?!), but it's worth giving it a go. This may be your new favourite book!
Find Ship of Theseus by JJ Abrams & Doug Dorst on Amazon and Goodreads.